Video Tutorials
Target TV Shows
& Plays/Musicals
Did you know that you can target specific TV shows on the Up-To-Date Actor? Why target projects? It is your job as an actor to know what you are right for and who is the casting director.
When you add a project to your targets list you will receive a notification whenever there is an update to the project, the casting information, or when any staff member at the casting company is holding a networking seminar in NYC, Los Angeles, or Atlanta.
Creating a target list of projects helps pin point WHO you need to introduce your talent to and lets you know HOW best to do that. Have peace of mind knowing that your time and money are being well spent on meeting and contacting the right people.
Here is a brief video on how to add a target project and start demystifying the business:
Booking a role in theatre, TV/Film, or any other form of performing arts involves several different elements, one of which being strategic targeting. While mass sending your resume and headshot to every available play, musical, or TV show may seem like a good way to cast the widest net, it may not get you the results you're looking for. Instead, it's better to narrow down your choices and be more specific. That's where a target list comes into play.
As a working actor, it's up to you to approach networking, auditioning, and making connections smartly. It's not necessarily about knowing everyone so much as it's about knowing the right people. Learning how to add targets to your dashboard and keep track of them will help you stay organized so you can be prepared when the opportunity for something big strikes.
Up-To-Date Actor is the only performance artist database that provides our clients with such robust target ability. Enjoy peace of mind knowing that you won't miss an update or news pertaining to one of your targeted companies, staff members, or projects.
Navigating to
Targets
The Targets page can be accessed from the top user navigation bar.

Alternatively, you may click the main navigation bar on the left and select Targets under User Info.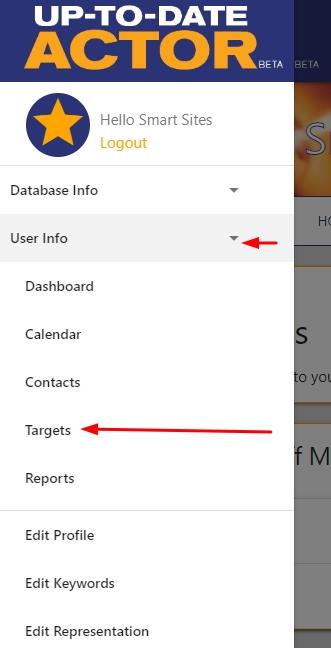 How to Add Your Targets
Under Targeted Area of FocusAvailable categories include Film, TV, Theatre, Commercials, Commercial Print, Modeling, Tours, and Voiceovers.
Under Targeted Projects
Once you have selected the areas of focus, you can add the relevant targeted projects in this section. If you can't find a certain type of project, make sure that the relevant boxes under Targeted Area of Focus are checked.
Once target project types are added, click on the + symbol on the right. Type in the first few letters of a TV or theatre show's name and a drop-down list will appear. You do not need to type out the entire name. Instead, simply click the item on the list. Click the + sign next to it and it should now appear in a numbered list.
Below is a sample result:
Plays / Musicals
The Piano Lesson
Wicked
TV
Law & Order
NCIS: Los Angeles
Choose a Target Area of Focus that Allows You to Research Beforehand
TV and theatre projects provide unique opportunities for actors and performance artists to do research on a show or play throughout the casting duration of the project's lifespan. For example, you can watch the pilot or all episodes of a TV series for the first season. This approach allows you to determine if you will be a good fit for a specific TV show genre or its target audience. Likewise for theatre, you can check out a prior production of that play or even read the script before deciding if it is a good fit for your career. Acting is like storytelling, which requires individuals to know the full story. Understanding the flow of the script gives your character and performance nuance and depth.
Benefits of Up-To-Date Actor's
Adding Targets Feature
After adding a targeted project, you will receive notifications whenever there are updates to the project and casting information. Additionally, you can check if a casting director assigned to that project will be attending an upcoming networking event. Having the most current information about a project is the best way to make sure you don't miss out on an opportunity.
Below is a list of notifications that performing artists will receive once they add to their Targets:
Changes to industry contact information
New company associations
News articles
Networking events
Audition opportunities
New projects currently casting
... and more!
Bear in mind that when it comes to targeting theatre, you are not just targeting a specific production but the play as a whole. This means you will be notified when any regional theatre across the nation adds a production. In this sense, it would be wise to cast a wide net for projects for which you think you'd be a good fit.