SAG-AFTRA / WGA Strike
Resources
We at the Up-To-Date Actor are committed to giving you the most up-to-date breaking news on the SAG-AFTRA and WGA strikes that are greatly impacting our industry.  Our goal is to keep you informed and empowered with strike-proof suggestions to continue to move your career forward during this industry production pause.
SAG-AFTRA just launched sagaftrastrike.org where you can find detailed information updates, helpful FAQs and picket schedules.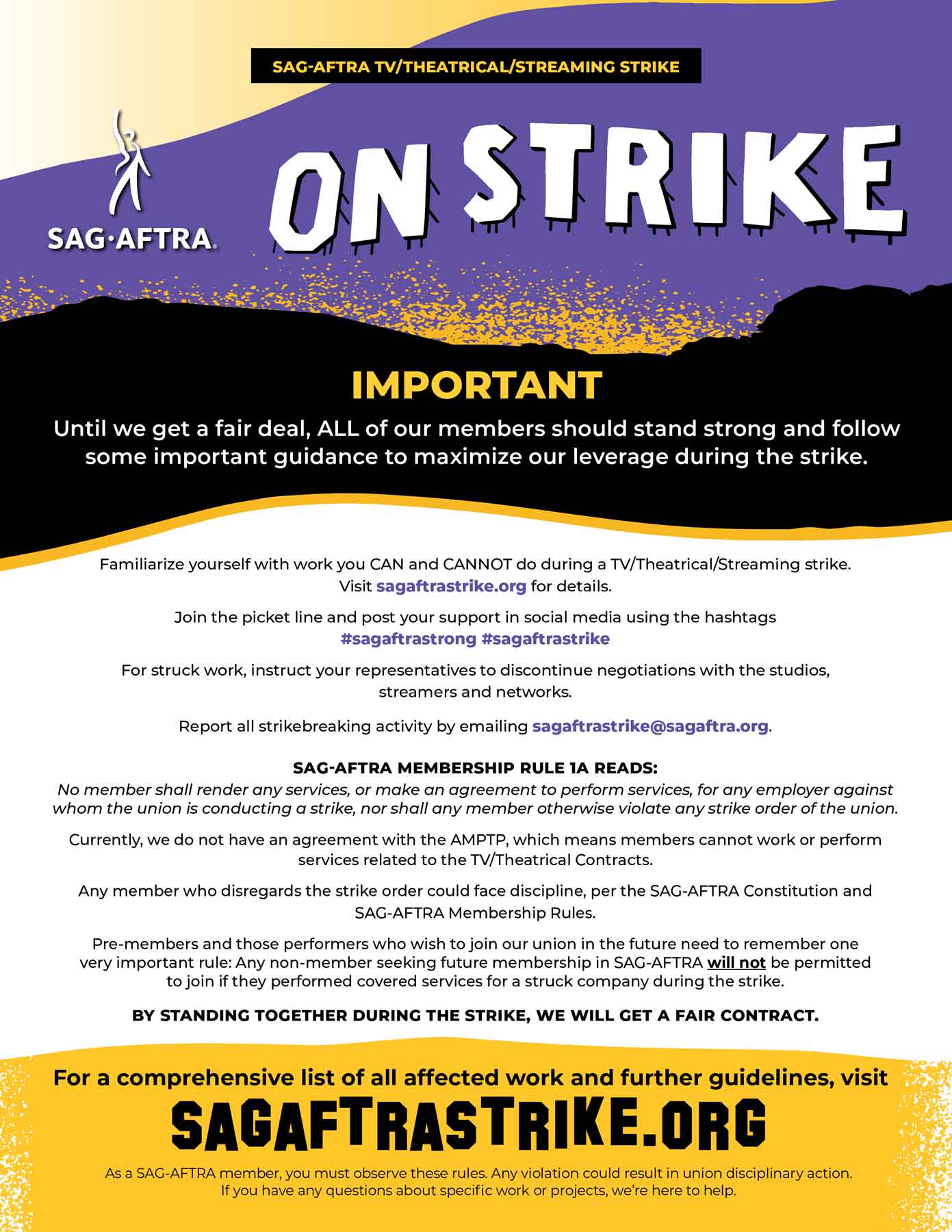 Annie's Advice
Here are some of the suggestions that we will be exploring over the days ahead to keep you moving forward with career building actions:
Updating your marketing materials
Research new representation opportunities - We are currently calling our East Coast database of talent agencies and talent managers to see who is actively interviewing new clients during the strike.  We will post an update in the upcoming weeks.
Connect with Casting Directors who are working on projects that you are fit for - We are currently calling our East Coast database of casting directors to see who is actively meeting actors during the strike.  We will post an update in the upcoming weeks.
Pursue theatre
Develop your own projects - short films, plays, and solo shows.
Get in an acting class, or networking class, for the area that you are focusing on.
Work on building/evolving a skill that adds to your marketability such as a dialect that matches your ethnicity, athletic skills and sports, singing skills, computer skills, etc. This new skill should help reenforce your castable type.
Let's make sure that we are all ready when production roars back this Fall.
Strike Analysis
In the recent Deadline article, What Happens To Hollywood (And Beyond) If The Actors Go On Strike many of the rumored ramifications of the SAG-AFTRA  Actor strike are now a reality that the AMPTP must face with production being halted on all fronts. Here are some of the major changes:
The majority of scripted TV series had already been shut down due to the WGA writers' strike. Now that actors have joined the WGA strike, there would be more casualties. A large number of U.S. series are shooting abroad, particularly in the UK and Europe, and those also would shut down, largely having been out of the glare of picket signs up to now.
No SAG-AFTRA actor can now work on any scripted Film/TV productions worldwide. As SAG-AFTRA's Global Rule One, which is more restrictive than WGA rules, states, "No member shall render any services or make an agreement to perform services for any employer who has not executed a basic minimum agreement with the union, which is in full force and effect, in any jurisdiction in which there is a SAG-AFTRA national collective bargaining agreement in place."
The SAG-AFTRA strike also would be expected to hit unscripted, which has started to pick up after a slow beginning to the writers' strike. Many broadcast shows are hosted and exec produced by WGA and SAG-AFTRA talent, and we've heard of a handful of game shows and competition shows that have been forced to delay production as some actors are unwilling to cross the picket lines.
Here are 4 of the major negotiation issues that are on the bargaining table:
14 % Pay increase - With respect to economic fairness, the guild has said that "Outdated contract terms, coupled with the evolution of the media business, including shorter season orders and longer hiatuses between seasons makes it increasingly difficult for our members to achieve and maintain a middle-class lifestyle working as a performer. In sharp contrast to the diminishing compensation paid to our members, the studios are posting immense profits with a bullish outlook as demonstrated by lavish corporate executive compensation. SAG-AFTRA'S demand for a 14% cost of living wage increase is compounded by the fact the DGA just negotiated a lower pay increase rate. If the 14% Sag-Aftra contract gets approved, this would retro-activate the DGA pay increase to the 14% rate.
Residuals - One of the big residual issues is over streaming residuals. SAG-AFTRA is committed to ensuring residual payments both reflect the economic value of our members' contribution and serve as a meaningful source of performer earnings. One major issue is that actor's residuals on streaming platforms are not being adequately compensated for the non-stop streaming reruns which the industry says they do not have a way to track these numbers.  While at the same time, giving streaming numbers for reasons to cancel shows.
AI - With respect to AI, the guild has said that "artificial intelligence has already proven to be a real and immediate threat to the work of our members and can mimic members' voices, likenesses and performances. We must get an agreement around acceptable uses, bargain protections against misuse, and ensure consent and fair compensation for the use of your work to train AI systems and create new performances. In their public statements and policy work, the companies have not shown a desire to take our members' basic rights to our own voices and likenesses seriously."
Self-taping - Self-taped auditions, meanwhile, "are unregulated and out of control," the guild said. "Too many pages, too little time and unreasonable requirements have made self-taping auditions a massive, daily, uncompensated burden on the lives of performers. Reasonable rules and limitations, and access to other casting formats, are sorely needed to ensure fair access to work opportunities and protect performers against exploitation."