Adding Auditions & Meetings
Record all of your auditions and meetings and easily populate reports. Keep track of all important details such as:
When you meet someone
The feedback you received
Who was in the room
All expenses associated with the audition (Transportation, Self-Tape Costs, Coaching Costs, etc)
Material you prepared
By inputting this information while it's fresh in your mind you can store all of the pertinent details and have confidance that the Up-To-Date Actor is connecting the dots and enabling you to learn from your past auditions. Find out what is working & what is not, build stronger relationships, and up your audition game for the future.
Not auditioning? Let's fix that! Check out Projects Now Casting, Networking Events, and check out a few of our blogs with advice on how to best submit. There are countless opportunities to meet Industry players. Filter through Casting Directors, Talent Agencies, Talent Managers to find out which industry contacts need to know your talent. See when they will be at an upcoming networking event and compare prices to meet your budget. Breathe easy knowing your time and money are well spent. Lastly, if you go to a Networking Event make sure you add a record for the Meeting. Every networking meeting you log counts towards your audition goal!
Here is a brief video on how to record your auditions:
No matter how experienced you are as an actor, singer, or other type of performing artist, auditions are inevitable. While certain performers may get to the level of notoriety in which they are so well-known that they no longer audition, most working actors know that auditions are part of their lives forever.
Auditions allow actors to showcase their skills in front of important decision makers like casting directors, producers, and directors. Auditioning is par for the course in all performing arts fields, including film/TV, theatre, music, and more.
With hundreds, if not thousands, of submissions to most audition notices, just getting an audition is already a win and needs to be viewed as such. Getting a callback is even better! Each time the industry selects you from a list of submissions is a success and needs to be documented as part of your career path.
The Importance of Tracking Auditions and Meetings
Logging and tracking your audition experiences allow you to reflect on the interactions from previous auditions when you receive a callback. You can learn how consistent and competitive you were, and what areas could use some improvement. Regardless of whether you land a role or not from an audition, you can use it as a learning experience moving forward.
When you take the time to track, log, and reflect on your auditions and meetings with casting directors and industry professionals, you gain insight into what you did well and what you could have done better. Self reflection is key in all areas of life, but especially when you're looking to book more jobs and increase your portfolio as a working actor.
Adding Auditions & Meetings | How it Works
There are currently three access points to add an audition. The first option is the dashboard.

The second option is to click your photo that is located on the bottom right corner of the page.

Click the thumbnail to access more options and select the Add Appointment icon.

The button for the second option is available on every page, which makes it very easy and accessible. This means that you can add an appointment from anywhere on the site.
The third option is to navigate to the Calendar page from the top navigation bar and click on the + button to get started.
When you click the + button, a pop up will appear and you can select the event type from a drop-down list.
After clicking Audition, another drop-down list appears for you to choose the project type. Projects are divided into four categories:
Film/TV: Films, TV shows, pilot, web series, talk shows, and variety shows.
Theatre: Broadway, Off-Broadway, tour, regional theatre, community theatre, cabaret, AEA showcase, reading, non-union showcase, and academic.
Commercials: Commercials, commercial print, and modeling.
Other: Industrial, voiceover, cruise ship, and others.
Next, you will be prompted to select 1st Audition or Callback. Choosing 1st Audition will search Up-To-Date Actor's database for any projects that we know of, or you can enter a brand-new project. Choosing Callback searches for projects for which you have already auditioned.
This search option is super convenient; all you need to do is type the first few letters or part of the project name and a list will appear.

When you click Next, you will be presented with a screen to enter the project details:

After filling out the fields, click Continue to Add Audition to enter the audition details: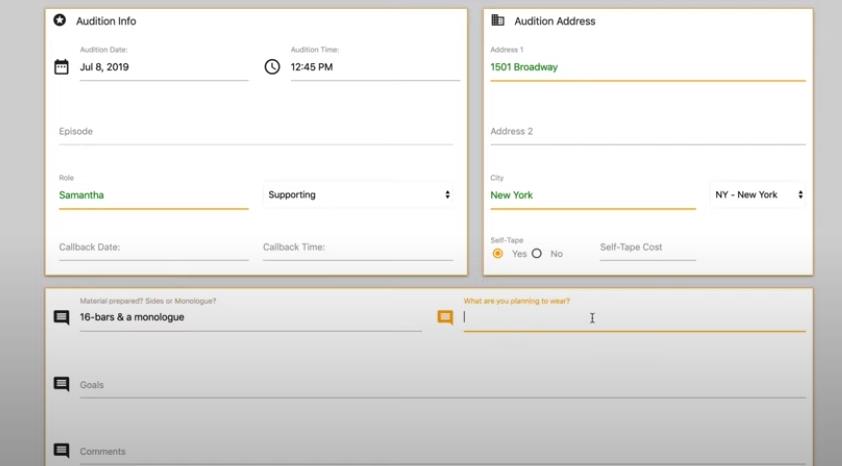 One of the special fields to note is Self-Tape. This allows you to write out the expenses you'll need to take care for the audition (e.g., transportation costs). An entry will automatically be made on the reports page for your incoming deductions. Callback Date and Time are made for commercial-related auditions. It is recommended that you also write out the different materials and attire you need to prepare for the audition to ensure a smooth process. Although the only required fields are the audition date and time, you should enter as much information as possible.
After you have filled in all the details, you will be redirected to your Calendar dashboard. All the auditions you have added will populate the list on the left under Upcoming Appointments.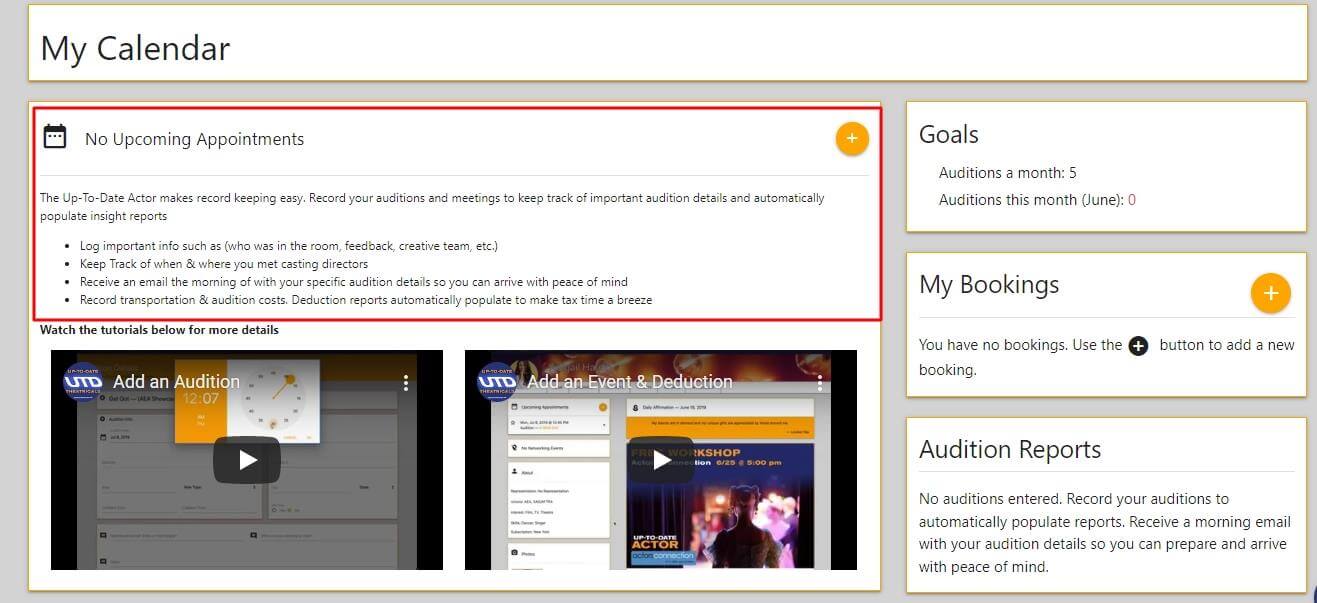 Why Log Auditions and Meetings on the Up-To-Date Actor?
Our Adding Auditions feature allows actors and performance artists to record as much information as they can about upcoming auditions so that they can focus on their craft. On the morning of your audition, Up-To-Date Actor will send you an email reminder with all your audition details, including the date, time, where you need to go, the casting director you are going to see, the materials to prepare, the role you are auditioning for, and everything else you need to know.
The life of a working actor can get busy, especially if you're booking roles and gigs! Still, it can be helpful to get reminders to follow up on projects. Whether it's to put yourself back on a casting director's radar or to check in about a callback, we never want you to miss an opportunity.
Sign Up for the Up-To-Date Actor and start keeping track of your auditions & meetings today!